Posted October 20, 2018
This coming Monday, October 22, 2018 is election day for the Mayor and City Councillors in Hamilton.
Your vote for #yesLRT is absolutely vital.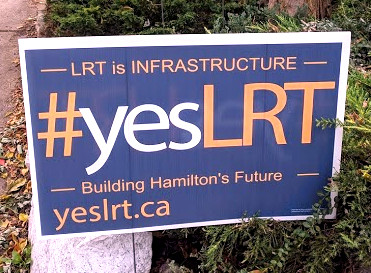 Despite the many challenges facing the city, anti-LRT obstructionists have manged to turn this election into yet another referendum on the city's light rail transit project, which is already being implemented after dozens of Council votes and Provincial approval and full funding.
The anti-LRT gang recognize that their window to kill the project is fast closing. They are desperate to keep LRT from happening and will say and do almost anything to stop it.
A single-issue anti-LRT mayoral candidate with no real platform has spent tons of money on attack ads in radio, print and online, and even paid for an airplane banner. After the Hamilton Spectator published an opinion article critical of his platform, he even tried to force them to take it down.
There is only one way to stop the anti-LRT gang from derailing the biggest public infrastructure investment in the city's history:
YOU NEED TO VOTE!
Recent polling suggests the mayoral election is going to be very close between Fred Eisenberger, who supports the LRT plan, and Vito Sgro, who opposes it.
That means every single vote counts, especially since voter turnout in municipal elections is usually low.
If you are not sure where to vote, the City has a web page where you can look up your polling location. If you are a Canadian citizen 18 years old and live or own property in Hamilton, you are eligible to vote.
Just show up at your voting station on Monday, October 22, 2018 between 10:00 AM and 8:00 PM with a valid piece of photo ID including your name and address. (The City has more information on voting eligibility and valid ID.)
The Province has promised that if Council continues to support the LRT plan, they will honour the funding commitment. The alternative is a vague pledge that we will get some amount of money for some kind of alternative project at some point in the future.
We can't afford to trade the certainty of a well-designed transformational plan with broad support for a cheap slogan. As Chamber of Commerce CEO Keanin Loomis recently put it, "LRT is infrastructure. In fact, it's the best kind of infrastructure — it delivers a long-term return on investment."

Vote. Urge your family and friends to vote.
Don't let the city's future be decided by people with no vision who are terrified of change. If they win, we will all pay the price for decades to come.