Posted October 23, 2018
LRT opponents insisted on making this municipal election yet another referendum on the city's Light Rail Transit (LRT) plan, which was approved in 2015 and is scheduled to begin construction next year.
A well-funded anti-LRT candidate ran a high-profile "Stop the Train" campaign propelled by nonstop automated telephone push-polls, radio commercials, Facebook and YouTube ads, lawn signs and even an airplane banner.
Now the people have spoken on the LRT referendum, and they have decisively voted to keep moving forward with the plan!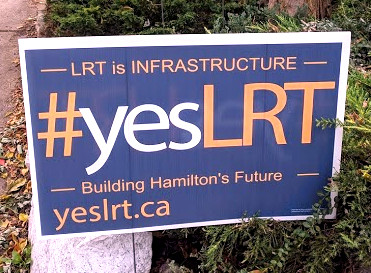 Incumbent mayor Fred Eisenberger, who strongly supports LRT, was re-elected with a commanding 54 percent of the vote. The incoming council will be composed of six members who fully support LRT, five members who are qualified supporters, and another two members who have reversed their LRT positions several times.
We have a clear mandate to move forward with this transformative investment in the city's long-term prosperity and livability. Instead of constantly fighting over whether we should build LRT, we should finally have a chance to focus our energy on ensuring that we maximize the benefits and mitigate the challenges.
None of this would be possible without your support and advocacy.
The #yesLRT campaign has been an inspiring movement of thousands of dedicated and passionate citizens who came together to ensure that fear and resistance to change don't hold the day.
Thank you, thank you, thank you for your faith in this city and your dedication to a more hopeful future.
Of course, there will be more hurdles to cross and our work is not over yet, but this election result is a huge milestone. Now it's time to put the never-ending debate to bed and work on getting the shovels into the ground.