Posted June 14, 2021
The momentum is building. Your engagement over the past few weeks has helped reignite a sense of urgency on the LRT issue. We are closer to the finish line, but we need to keep up the pressure as LRT opponents are trying to delay and derail progress.
http://hamiltonlightrail.ca/statements/new
This Wednesday, CIty Councillors are voting on a motion (item 11.1 in the linked agenda) to negotiate a Memorandum of Understanding (MOU) between the City and Metrolinx. The MOU is another crucial step in getting LRT for Hamilton.
Once again, LRT opponents are trying to delay this step to run out the clock. If we don't keep on schedule, we will lose this $3.4 Billion opportunity to another community. The motion in front of Council has already been delayed once and we can't afford to keep delaying further.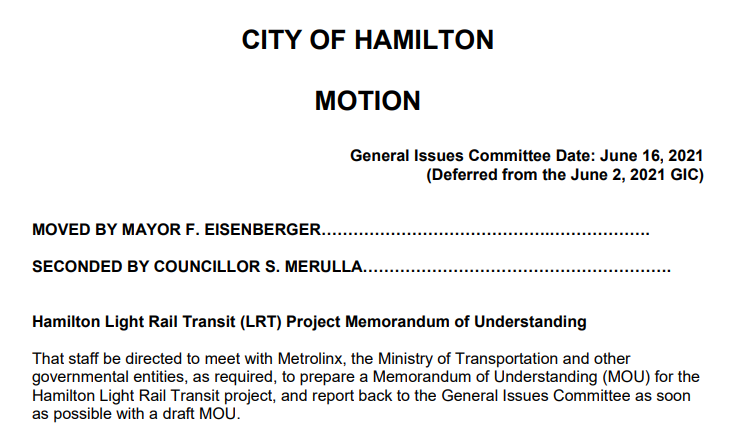 Motion directing staff to negotiate an MOU with Metrolinx
Please take a moment to tell Council to stop the delays and pass the LRT motion on Wednesday. Click here to send a comment:
http://hamiltonlightrail.ca/statements/new